Il prossimo 25 marzo la Reprise Records pubblicherà un greatest hits della rock band multi-platino My Chemical Romance, intitolato MAY DEATH NEVER STOP YOU, a un anno dall' annuncio ufficiale dello scioglimento della band, avvenuto lo scorso 22 marzo 2013.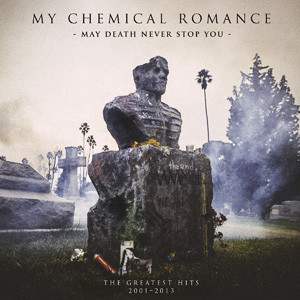 È attivo il preorder da oggi  nella versione deluxe: (clicca qui)   e nella versione Standard:(clicca qui).
"Il titolo è giusto, perché anche se è stato triste dire addio alla band, vogliamo che questa raccolta sia una celebrazione dei nostri migliori brani. Speriamo che il loro ricordo continui a portare gioia a tutti voi come hanno fatto per noi", hanno affermato  Gerard Way, Mikey Way, Frank Iero e Ray Toro in un comunicato. "Speriamo vi piaccia ripercorrere la storia dei MCR e che possiate apprezzare un piccolo assaggio di quello che avrebbe potuto essere".
La collezione abbraccia la carriera decennale di questa straordinaria band, il cui suono venato di gotico punk-pop teatrale ha fatto impazzire legioni di fan. Contiene le canzoni più amate, tra cui le hit alternative-rock "I'm not OK ( I Promise )", "Helena" e "The Ghost Of You " dal disco di platino del  2004 "Three Cheers For Sweet Revenge". Contiene inoltre "Welcome To The Black Parade", "Famous Last Words" e "Teenagers" dal grandissimo successo del  2006 "The Black Parade", e "Na Na Na ( Na Na Na Na Na Na Na Na Na )" e "Sing" da "Danger Days: The True Lives of the fabulous Killjoys" del 2010, oltre a molti altri brani. Qui di seguito trovate l'intera tracklisting.
L'album include anche un brano inedito, "Fake your death" – una delle ultime canzoni a cui i membri della band hanno lavorato in studio insieme – tre canzoni dal famigerato "Attic Demos ", così come un DVD con due ore di outtakes mai visti prima, relativi ai video ufficiali dei MCR.
MAY DEATH NEVER STOP YOU uscirà in versione digitale standard (solo audio) e deluxe (con contenuti audio e DVD). Sarà anche pubblicato un CD standard (senza DVD), come edizione Deluxe con il DVD e come doppio vinile da 180 grammi con in  più il DVD. La versione DTC include la t-shirt "Thank You For The Venom "
 La tracklisting è la seguente:
CD:
1. Fake Your Death
2. Honey, This Mirror Isn't Big Enough For The Two Of Us
3. Vampires Will Never Hurt You
4. Helena
5. You Know What They Do To Guys Like Us In Prison
6. I'm Not Okay (I Promise)
7. The Ghost Of You
8. Welcome To The Black Parade
9. Cancer
10. Mama
11. Teenagers
12. Famous Last Words
13. Na Na Na (Na Na Na Na Na Na Na Na Na)
14. SING
15. Planetary (GO!)
16. The Kids From Yesterday
17. Skylines And Turnstiles (Demo)
18. Knives/Sorrow (Demo)
19. Cubicles (Demo)
DVD:
20. I'm Not OK (I Promise) Version 1
21. I'm Not OK (I Promise) Version 2
22. Helena
23. The Ghost Of You
24. Welcome To The Black Parade
25. Famous Last Words
26. I Don't Love You
27. Teenagers
28, Blood (previously unreleased)
29. Na Na Na (Na Na Na Na Na Na Na Na Na) and Art Is A Weapon (trailer)
(includes previously unreleased Na Na Na intro)
30. SING
31. Planetary (GO!)
Alfonso Papa for Backstage Press © Copyright 2013-14. All Rights Reserved.